1937
(Click on any image to view an enlarged version)
Poster stamps
Commemoratives for Renáta Tyršová


(Privately issued; artist: Jaroslav Rijáček; printer: Unie, Prague)
Renáta Tyršová (1854-1937) was the daughter of Jindrich Fügner, and the wife of Miroslav Tyrš.
Fügner and Tyrš were the cofounders of Sokol.
During her husband's life Renáta worked beside him to support his work both in Sokol and as an art historian. After his death she distinguished herself as a Czech art historian, art critic, educator, and ethnographer.
----------
1887-1937 - KRÁL. VINOHRADY
Poster stamps
50th anniversary of Sokol in Vinohrady

"Královské Vinohrady is a cadastral district in Prague.
It is so named because the area was once covered in vineyards."
----------
Poster stamp
50th Anniversary of Sokol unit in Menší Město Pražské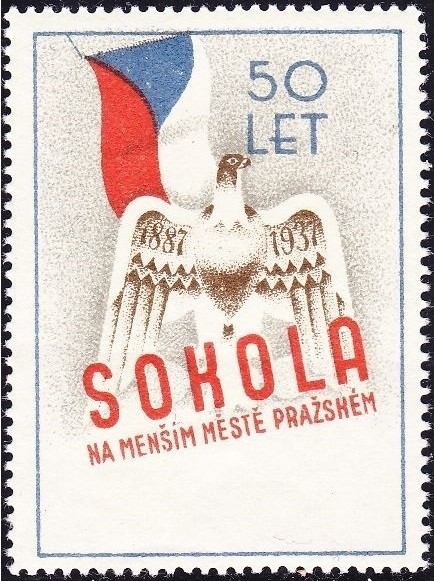 Printer: Litografie a tiskárna, František Tocl, Praha

Malá Strana or more officially Menší Město Pražské
is a district of the city of Prague, Czech Republic,
and one of its most historic regions.

----------
Poster stamp
50 Years Sokol in Místek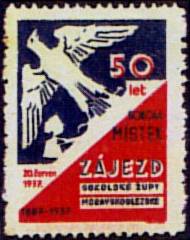 50th anniversary of Sokol in Místek (1887-1937)
Congress (ZÁJEZD) of Moravian-Silesian Sokol organization (Župa) at Místek, June 20, 1937
8/21/18 - Our Czech correspondent Štefan Šuták sent the images below, of a souvenir folder from the celebration.
It has a nice copy of the poster stamp, of course, but also two newly issued semi-postals, Scott B147 & B148,
AND (special bonus!) two of the newly-issued Czech "personal delivery stamps," Scott EX1 & EX2.
Czechoslovakia is the only issuer of these, in 1937 and 1946.
Letters designated for personal delivery could be delivered only to the individual to whom they were addressed.
A blue triangular stamp with the letter "V" at each angle (EX1) was applied to letters for which the service had been prepaid, while a letter bearing a red triangular stamp with the letter "D" in the angles (EX2) indicated that the fee for the service was to be collected from the recipient.
Which begs the question "Why was this service deemed necessary?"
Thanks, Štefan, I learned something new and interesting from that!
----------
Poster stamp
VIII WSZECHPOLSKI ZLOT SOKOLSTWA POLSKIEGO W KATOWICACH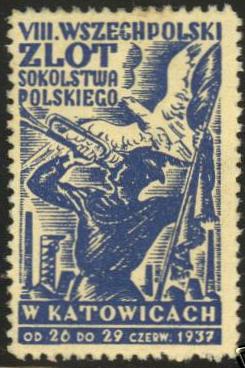 8th All-Polish Slet of Polish Sokols in Katowice
----------
Poster stamp
LETNICE HRANIČÁŘŮM
According to Sokol maven Štefan Šuták of Chomutov, Czech Republic, this stamp was a charity label issued to raise funds in support of Sokol clubs in border areas where clubs could not get enough members to be self-sustaining.
The 1937 year date is based on his research, but unverified.
LETNICE means Pentecost and HRANIČÁŘŮM means border guards.
----------
Poster stamp
4th Equestrian Races at Hořice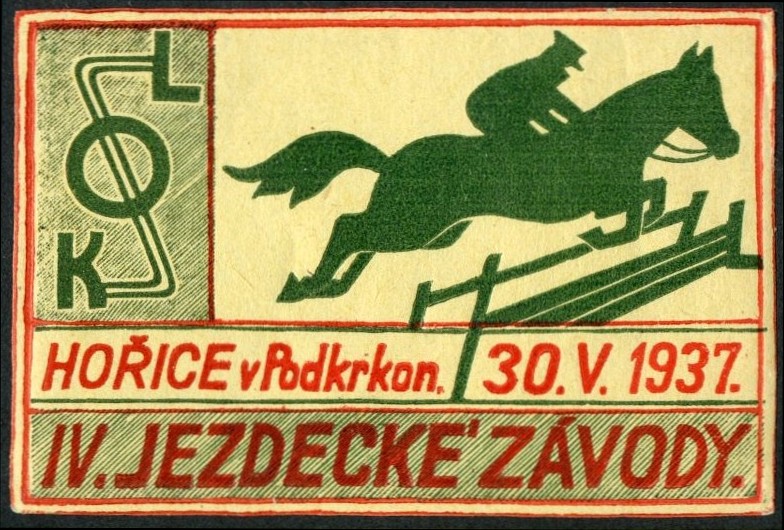 IV. Jezdecké závody, Hořice v Podkrkono 1937
4th Equestrian Races at Hořice, 1937
Races were held in 1934, 1935, 1936, 1937, 1938
See the 1936 page for another of these.