1934
(Click on any image to view an enlarged version)
Regional Slet, Ústí nad Labem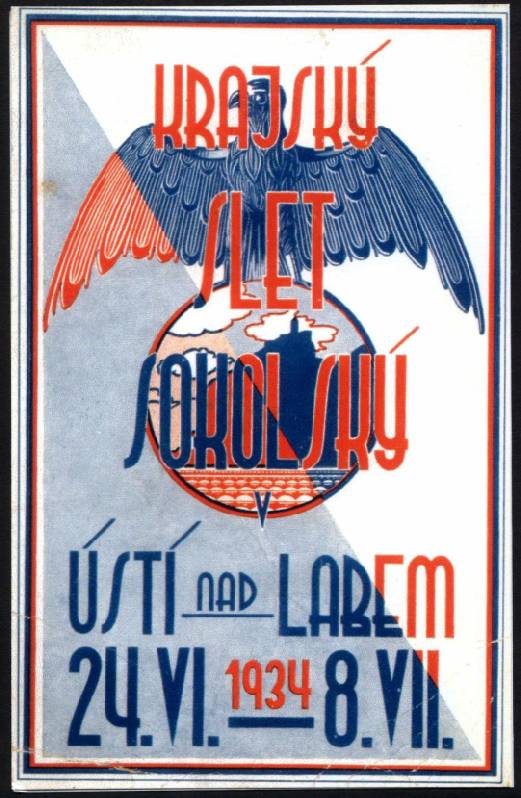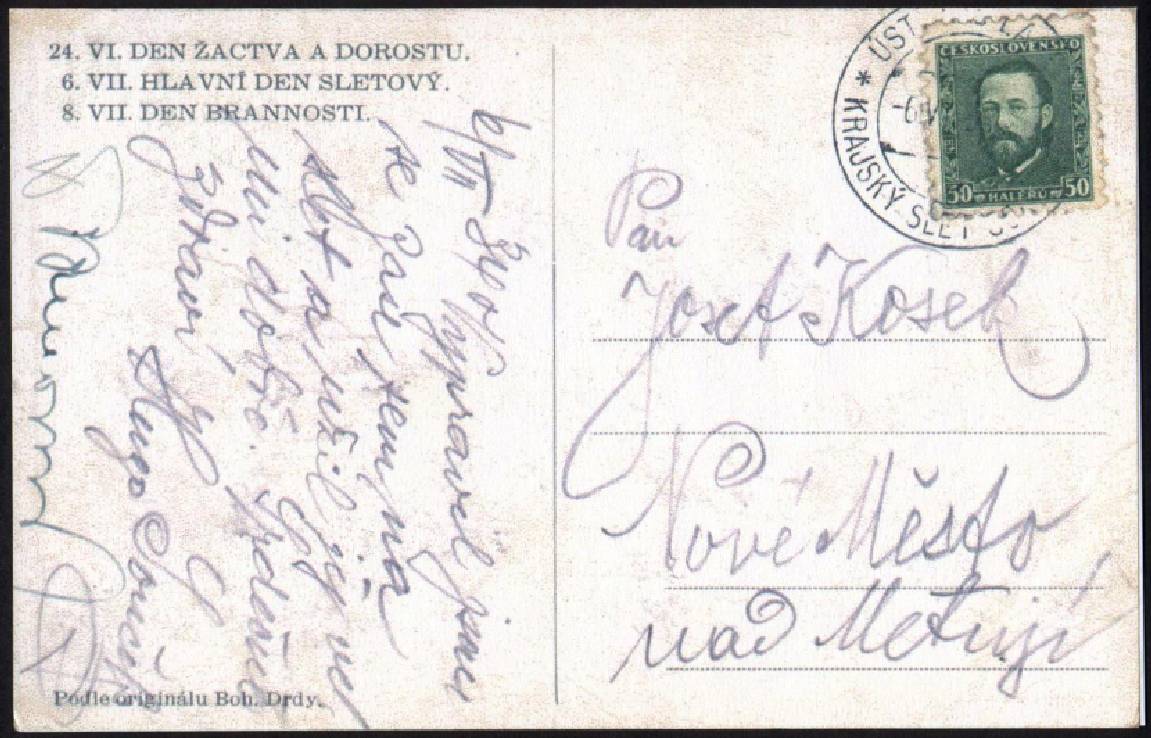 Artist: Boh. Drdy
Above, Postcard produced for the Regional Sokol Slet held in Ústí nad Labem
from 24 June to 8 July 1934, franked with composer Frederic Smetana 50 h. stamp,
cancelled with special Regional Slet postmark dated 6.V11.34,
and addressed to Nove Mesto nad Metuji.
The programme included:
24th June: Day of the Pupils and Youth:
6th July: Main Day of the Slet;
8th July: Day of the Military.
Poster stamp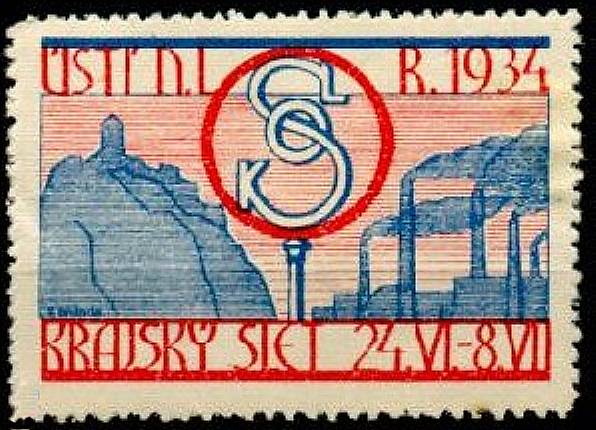 According to Wikipedia, Ústí nad Labem is a major industrial center, as advertised proudly on this stamp. I suspect that image of smokestacks belching pollution would not be used today!
04/23/2022 - Štefan Šuták, our esteemed Sokol expert in Czechia, informs me that during the 1980s, Czech citizens received a special subsidy to compensate them for the ill effects of air pollution. It was popularly referred to as a "funeral fee." I Googled "czech pollution supplement funeral fee" and learned that "The Czech Republic has an infamous environmental pollution history and long-term problems due to heavy air pollution in the past." So while the area had relatively high living standards, they came at a heavy cost. And though the situation has improved, the area still has air quality considered "moderately unsafe" due to a combination of heavy use of coal for heating, and geographic conditions that trap the polluted air.
----------
Regional Slet in Opava
POSTER STAMPS
| | |
| --- | --- |
| 50th anniversary of Sokol unit in Holin | Equestrian Races at Hořice |
| | |
---
Yugoslavia issued two sets of three semi-postal stamps each, one set to honor the 20th anniversary of the Sarajevo Slet, the other to honor the 60th anniversary of the Zagreb Slet. Both sets are shown below.
Major Slets were held in both cities, and postcards were published, but I have no examples.